Package Included:
1 x 1L Oxygen Cylinder (green / orange / black, optional)
Description:
Basic:
Max.Dwell Time Underwater: 20min
Oxygen Cylinder Interface Model: M18x1.5
Max. pressure: 3000PSI / 200bar / 20MPA(can't exceed)
Medium Pressure Pipe Interface Model: 3/8-24UNF
1L Oxygen Cylinder:
Color: Black, Green, Orange
Material: 6061 Aviation Aluminum
Size: Approx.28.5*8.8*3.4cm/11.22*3.46*1.34"
Oxygen Cylinder Bag:
Material: 600D High-Elastic PVC
Size: Approx.41*31.5cm/16.14*12.4"
Function: Used to hold an oxygen cylinder
Diving Storage Bag: 
Material: 900D PVC Fabric
, 
Inner EVA
Size: Approx.34*13*31cm/13.38*5.12*12.21"
Three Inflation Methods:
1. The Big Oxygen Bottle(not included) Inflates It 
2. The Electric Inflate Pump (not included) Inflates It 
3. Hand Pump(not included) To Inflate It
Feature:
-Compact and lightweight, easy to use.
-Portable equipment for recreation, practice, or training diving.
-Using a 1L oxygen cylinder, the underwater breathing time can reach 20 minutes.
-The surface of the oxygen cylinder is plated, hard, and resistant to corrosion.
-Suitable for divers, hobbyists, lifeguards, and fishermen.
-Oxygen cylinder bag can fold & washable, dries quickly, the fabric is breathable.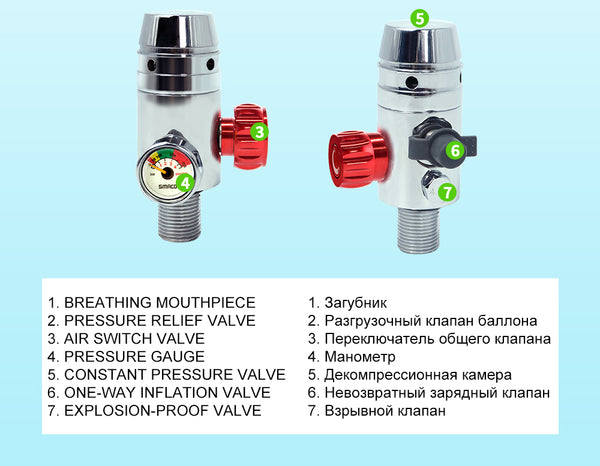 Warning:
Do not use this article before reading and understanding the instructions and notes.
1. This product is suitable for recreational diving within 10m. Do not attempt to use it as an air supply in deep water.
2. This product can be used as a backup air source for recreational diving within 30 meters.
3. This product is suitable for waters above 10℃ Celsius.
4. Inflate the product before use and check for damage or leakage. Never use items that are damaged, leaking, or showing signs of performance error.
5. The maximum filling pressure of this product is 3000 PSI or 200bar, And can only fill the compressed air that the human body breathes. Gases with an oxygen content greater than 40% cannot be used. 
6. Keep the product in a cool, dry place away from direct sunlight. Do not store in a car trunk or high temperature, or put it in a fire.
7. After filling the air, the pressure must be released first.
8. When the gauge pointer reaches the red area, please rise to the surface, inflate again to use.
9. Emergency equipment must be used in an emergency. This product does not provide protection in the event of danger.
10. When using it for the first time, please practice in shallow water.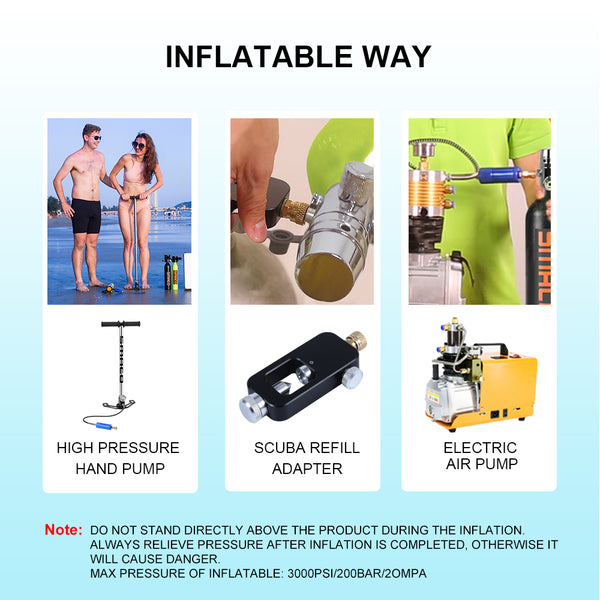 Note:
-After-sales questions about accessories: Guests who refund or resend due to lack of accessories need to take a video (open the box) in advance and send it to us. Please understand that.
-Due to the different light and screen, the color of the item may be slightly different from the picture. beg to be excused.
-For manual reasons, please allow 0.5-1 inch difference.
Related Items